January 26, 2010 on 1:01 pm | In
BookDrive DIY
,
BookDrive DIY Support
,
BookDrive Mini
,
BookDrive Pro
,
BookSnap Support
,
General
,
News
,
Support
|
No Comments
Hey Everyone,
I'm thrilled to announce that both BookDrive Capture and BookDrive Editor Pro are now fully compatible with windows 7 (both 32 bit and 64 bit versions).
BookDrive Capture version 3.2.3.1  can be download here.
BookDrive Editor Pro version 4.1.4.0 can be download here.
Keep the feedback coming, we are continue to improve and enhance user experience and evolve our products.
June 11, 2009 on 3:38 pm | In
BookDrive DIY
,
BookDrive Mini
,
BookDrive Pro
,
General
,
Support
|
No Comments
You may have noticed that we have just release BookDrive Capture Version 3.2.1.2 . We're too excited about this new release as Atiz software team has been experimenting a lot with performance and usability improvements, and we're just about done with one that we think will simplify the way you use the software.
First though, a bit of release notes:
Solved various bugs resulting in improved overall reliability – Fixed insert scrolling – Fixed RAW+L capture crash
Improved memory management. Solved "out of memory" problem when shooting many pages in RAW * Fixed issue about start page number
Fixed issue about not being able to scan more than around 400 pages.
Adds support for Canon 5D Mark II with firmware 1.0.7
New in-software activation system simplifies process
Users can now deactivate software within software without Atiz support.
What's nice is that user can now deactivate the software, making it quite easy for user to move the software to another computer and reactivate without help from our support. Here's how you'd activate and deactivate the software:
Deactivation:
Deactivating:
Process Completed:
If BookDrive Capture installed on a pc that does not have internet connection, you can simply deactivate in an offline mode.
As always, let us know what you think, as we appreciate all your feedback!
Atiz Crew
April 17, 2009 on 10:54 am | In
BookDrive Mini
,
News
|
No Comments
BookDrive Mini – Huge Performance, Compact Size.
BookDrive Mini solves all problems found in book scanners. Problems of conventional scanners are page curvature, damage to book spine and low productivity.
BookDrive uses a different approach called a V-shaped solution. The combination of V-shaped book cradle and V-shaped glass holds the book open at a non-stressful 120-degree angle for scanning by hi-speed, hi-resolution digital SLR cameras.
This unique design guarantees sharp, curvature-free images in every scan.
Even Light Distribution
BookDrive Mini replaces florescent light bulbs with twin LED lighting panels. The lighting system in BookDrive Mini provides more even light distribution than the Book Snap and this kind of set up also kills reflection. BookDrive Mini is a must buy if you want to scan glossy magazine pages
Maximum scanning area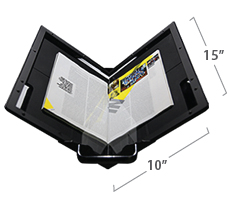 Books, magazines, journals, or any bound documents up to A4 size. BookDrive Mini accepts all kinds of books and is perfect for your invaluable, frail, old books.