April 17, 2009 on 10:54 am | In
BookDrive Mini
,
News
|
No Comments
BookDrive Mini – Huge Performance, Compact Size.
BookDrive Mini solves all problems found in book scanners. Problems of conventional scanners are page curvature, damage to book spine and low productivity.
BookDrive uses a different approach called a V-shaped solution. The combination of V-shaped book cradle and V-shaped glass holds the book open at a non-stressful 120-degree angle for scanning by hi-speed, hi-resolution digital SLR cameras.
This unique design guarantees sharp, curvature-free images in every scan.
Even Light Distribution
BookDrive Mini replaces florescent light bulbs with twin LED lighting panels. The lighting system in BookDrive Mini provides more even light distribution than the Book Snap and this kind of set up also kills reflection. BookDrive Mini is a must buy if you want to scan glossy magazine pages
Maximum scanning area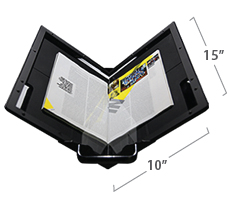 Books, magazines, journals, or any bound documents up to A4 size. BookDrive Mini accepts all kinds of books and is perfect for your invaluable, frail, old books.
No Comments yet »
RSS feed for comments on this post. TrackBack URI
Leave a comment
You must be logged in to post a comment.